--
oh , the horror !
--
i was with d having some post-dinner drinks at some place in red dot building ( skin ? i forgot its name ) when d waddled off , slightly intoxicated, to the bathroom. i was minding my own business stirring my rum and coke absent-mindedly when the bartender sudddenly leaned over ( we were sitting at the bar )
mat-rocker bartender : are u local ?
me : huh ? yea, 100% singaporean !
mat-rocker bartender *happily* : ohh.. so are you an SPG ? ( obviously he thinks SPG is a complimentary term or something. haha )
me *flabbergasted* : nooooo ??!!
okay this SPG issue has been bugging me for sometime. depending on how you define an SPG, i am, to quite a handful, considered an SPG because mark is aussie and d is well, a bloody yankee though he is only half white.
i honestly think that i do not fit into the description of an SPG because
1) i do not date white men exclusively, i just happen to meet more of them at this point of my life
2) i spend my own money
3) i have an above average IQ ( hahaha not like it matters but i just wanna flaunt that i am not some ditzy hair-twirling girl , okay ?? )
more on the SPG topic later, i have to go back to my books. exams are in like what, 10 hours time.
ahhhhh.
oh, i found these photos i took in china a year ago. gosh, such an enriching photographic experience i had there =)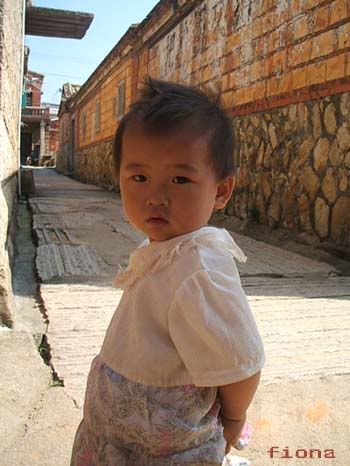 such innocence.
--
listenin to : lustra - scotty doesn't know