--
glamourous? NOT!
--
as most of you would know by now, i do fashion and writing for a living. okay not so much for a living since it pay peanuts.
forget the glamour, forget the glitz. yes, i get to attend some rather fabulous events now and then, not to forget the bags of freebies that get thrown at me every other day.
but behind the scenes, it is a mess of clothes waiting to be sorted out into their respective mountains, the never-ending sourcing ("fiona
, i need to find TEN leather organisers by THIS EVENING
.") to be done, and of course, bitchy behaviour from.. just about everyone. in all seriousness, being bitchy quite inevitable considering the pressure-cooker environment. deadlines, people. deadlines!
so what happens behind the glossy and slick fashion spreads you ooh and ahh over? hard work. and alot of waiting.
firstly, the fashion director seperates the clothes of the day into two racks - the wanted and the unwanted. once that's done and she sits down and starts whining about everything under the sun, the steaming of the clothes begin. mind you, no crease allowed! satin and denim are hell to work with.
and then there's the accesories table. in between takes, i have to note down every item that gets featured, for the credits page. it's actually easier than it really looks because most of the time, the items on a shoot are borrowed by me so everything falls into place.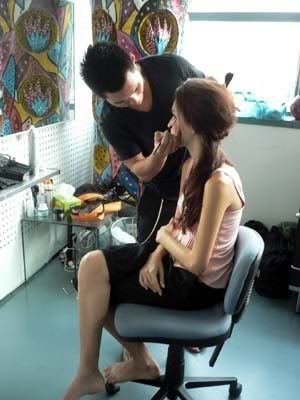 and of course, the model. modelling is a very boring career, because models wait FOREVER before she actually gets photographed. for e.g, she'll be asked to be at the location at 9am but her make-up and hair will only commence after the clothes are ready, and it will be almost noon by then. after she gets primped up, it will be 3pm and then i will start sighing because it will mean that the shoot will only wrap up after 8pm.
most of the time, the clothes are really ill-fitting so an absolute essential at a fashion shoot is the humble peg. what we do is we wrap the peg up in sticky tape so it won't dent the fabric, and then peg it accordingly onto the model. on average, an entire outfit will require at least 6 pegs.
the lovely model whose name i have forgotten. they all look the same on their com cards to me! contrary to popular belief most models are actually naturally fabulously skinny like me. you'd be surprised at the amount of shit they eat while waiting.
anyway. i don't know if it's time for me to explore new horizons. would love to try creative writing and advertising stuff, but it seems like i'll be stuck with fashion for quite a while :)
woo i am tired. nites