------
a saturday in the life of fiona tan
----
having quite a serious case of writer's block but my hands are itching to type . the result ? a very uncreative entry.
7am : wake up feeling extremely bewildered due to the fact that i shouldn't be awake until noon
7.05 : as if staged , phone suddenly rings and it is JP because he is in the vicinity and wants me out for breakfast . gleefully agree as i am feeling very restless.
8 : met up with JP at the market 10 minutes' walk away from my place and stuffed myself silly with a very singaporean breakfast of "Dou Hua Shui and You Zha Ge" .
8.40 : roamed the wet market with JP and bought groceries
9.15 : HOME SWEET HOME. I wasted no time in chopping up carrots and potatos to cook porridge ( Ingredients : Carrots , potatos , minced meat , ikan bilis stock , rice and spinach ) .
9.30 : allowed the porridge to slowly boil while i lounged around , enjoying the high life - Sipping on fresh earl grey tea with 3 spoonfuls of sugar , reading up on the latest scandal in the morning papers while the hi-fi spins shanghai jazz . ahhhhh,
10 : SECOND BREAKFAST IS SERVED . Thoroughly appreciate my culinary skills as i flipped through the pages of Charlotte's Web for the zillionth time.
10.35 : Feeling utterly satisfied , my mind starts to shut down and i felt so drowsy that i laid myself down for a nap .
2pm : wake up feeling extremely blissful without any plausible reasons. bathed and went out.
2.45 : met up with S at City hall and walked towards the Esplanade
2.50 : laughed at the b-boys wannabes strutting their stuff near the Esplanade tunnel , and the besotted girls hanging around the area waiting to be picked up by the wannabes.
3.15 : sat down to a private rehearsal of an upcoming local play .
5 : mingled with the cast for a while because most of them knows S
5.30 : Had a quick snack of muffins and tea at Mrs Fields . I'll think i'll stick to their cookies after today , if you get what i mean .
6 : Off to the Library @ Esplanade to do some research for my upcoming assignment for which i am required to craft an original script .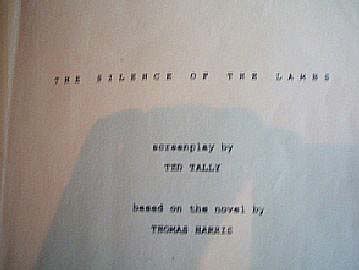 The screenplay of the Silence of the Lambs. Never had the chance to catch this as yet but it came highly recommended by Jude so i decided to browse through the screenplay and i must say i was quite intrigued. Will rent the movie soon.
8 : Decides on a whim to join Mel and Co. to attend Shiqi's birthday party at her house because i didn't want to tag along with S to his friends' chalet because that would be so damn odd . Got abused by him after telling him of my decision. Owwwww. Sorry lah , brudder :P
9 : Reaches Serangoon and permanently glues butt to a swing clogging my arteries from eating greasy barbecued food and getting a sugar rush from all that canned drinks.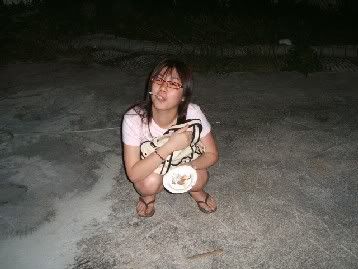 Peiling in a classic pose.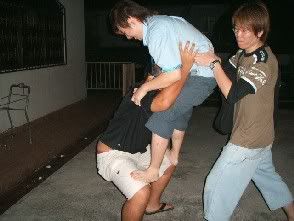 THE LOCAL JACKASS CREW !!!!!!!!!
"Hi this is Melvin Chung and welcome to Jackass!!!!!!!!!"
11 : Sadly it is time go bid everyone goodbye as i have to be home early or be at the receiving end of my dad's fury .
12 - 3am - Finish reading The Lawyer by John Grisham , edit a few scenes in my script , cleaned my hamsters' cage and chatted online for awhile before calling it a day.
---------
hell , i can't believe i wrote that pile of senseless gunk
------
Listening to :
[Hotel Costes] Pink Martini - Symphatique
Red Hot ChilLi Peppers : By the way