Saturday, December 31, 2005
Friday, December 30, 2005
----
decisions !
--
If you have a weak heart i suggest you close this window immediately.
As everyone knows , i've had short hair all my life. The longest length i've ever maintained was way back in secondary school and it was just long enough to reach just below my shoulders , which is actually rather short to some.
So today i was toying around with Fang's newly rebonded hair. Gosh her hair's like silk lor.
I had her stand behind me while i flipped her luscious locks across my shoulders...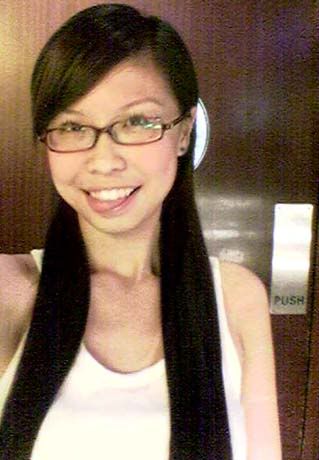 HAHHAHAHA!!!!
OH.MY.GOD. ( dumb blonde style )
It actually looks convincingly real huh ?!!
Somehow the baby fats on my cheeks melted away into oblivion.
I apologise for the gritty quality and the weird photoshopped-like hue ( i swear it hasnt been photoshopped , just resized and the brightness adjusted ! ) but its just due to my lousy camera phone and the fact that i was standing behind an orange lamp.
I received mixed reactions when i sent this to my friends -
Xin : fark.you better don't leave long hair
And later ..
Xin : Actually it looks quite okay lah.Yan : Yucks !! Disgusting !!!HH : WTF?? Jun : No. Ter : i wouldnt say its better but its a different look. but i still prefer you with short cute tressesJ : FUCK NOOOOO !
And this is how i currently look like with my short bob. Yes i've actually chopped off the old stylo-messy-mylo hair for a neat one-length classic because i so dig the bookish look now.
Not kidding.
I really like the bookish nerd look. Complements my glasses and my books.
I've posted this up before but its the only recent one i have lah.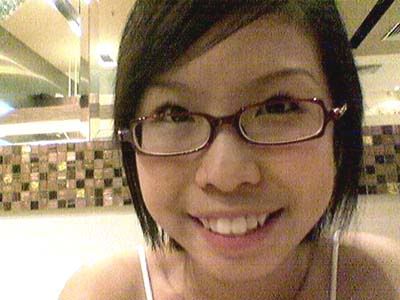 Makes my cheeks bloat up mysteriously as well.
I feel like a change , i'm actually quite sick of looking half my age because people find it hard to take me seriously because i look so bloody juvenile.
Used to find it a compliment whenever i get asked about my O levels when it took place almost 4 years ago or gettin my ID checked whenever i purchase liquor or ciggs but after sometime it loses its novelty and it becomes grating.
Not to mention the incredulous expressions and indignant replies i get whenever i insist that fucking hell , i'm a damned almost 20 year old YOUNG adult !
Maybe , just maybe , longer hair might give me the mature facade i really need.
Heh.
What say you ???
--
listening to : the eagles - tequila sunrise
--
p.s : FRANZ FERDINAND IS COMING !! WELL DO YA DO YA DO YA WANNA !?
I told myself , if i win more than $100 at the gambling table during chinese new year i'll snap up the most expensive seats
dear mr otb , you're missing out on two of yr fav bands :p